With a 20% rise in granted planning applications between December 2020-2021, demands for extensions and home renovations continue to grow as the UK recovers from the impact of COVID-19. However, with the increased cost of living, homeowners are also on the hunt for long-term value – practical designs and features that can transform their existing space to accommodate ever-changing needs, from growing families to remote working opportunities.
As styles and designs evolve, we have looked at some growing trends in extensions and renovations that offer value for money while meeting the needs of the modern homeowner.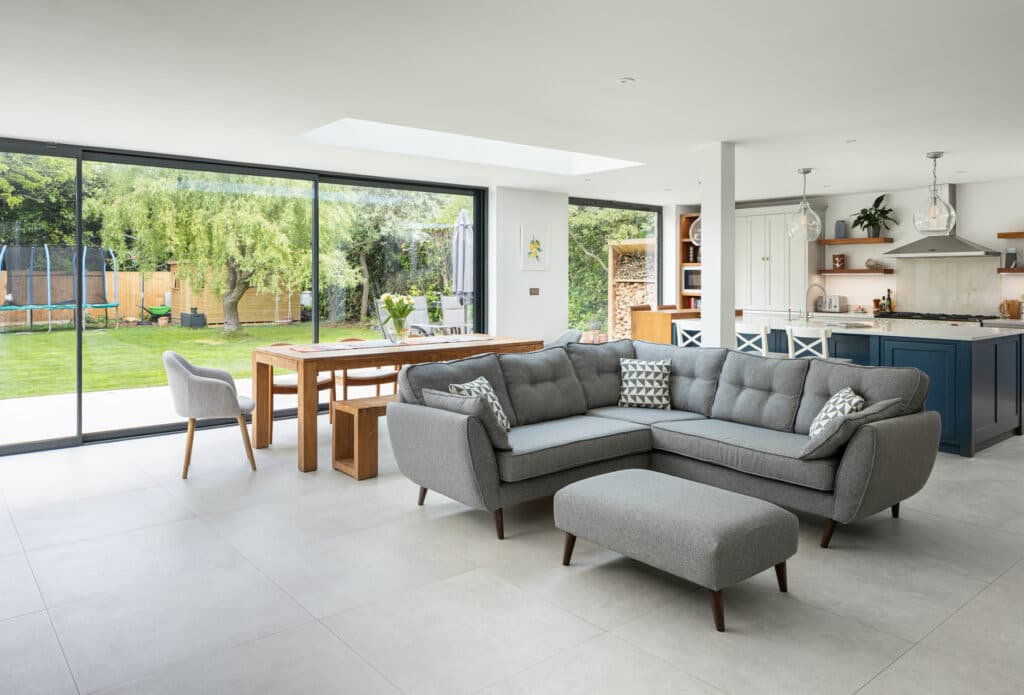 Changing attitudes, changing technology
The overall appearance of a property continues to impact how we wish for our homes to look, feel, and be perceived by others. As previous trends, such as external window shutters or dark wood internal panelling have fallen in popularity, rising energy bills and legislative changes have forced many to look for greener, more energy-efficient designs and aesthetically pleasing features that incorporate additional benefits, such as space-saving opportunities.
For example, modern front doors not only provide a stylish entrance and instant curb-appeal, they can now incorporate appealing features that can completely transform the look and feel of your home. These can include:
Fixed frame sidelights or overlights
An integrated glazed elevation featuring curtain-walling.
Interestingly, popular extension and renovation trends are also steadily incorporating new features that look to counteract concerns around heat loss and changing style preferences. The Future Homes Standard 2019 Consultation has been incorporated into one of the biggest changes to Building Regulations in a generation and all new builds and extensions must now meet emissions targets that are 31% lower than previous regulations. These ambitious requirements are further shifting trends as architects, manufacturers and contractors look for new ways to improve energy efficiency.
Greater flexibility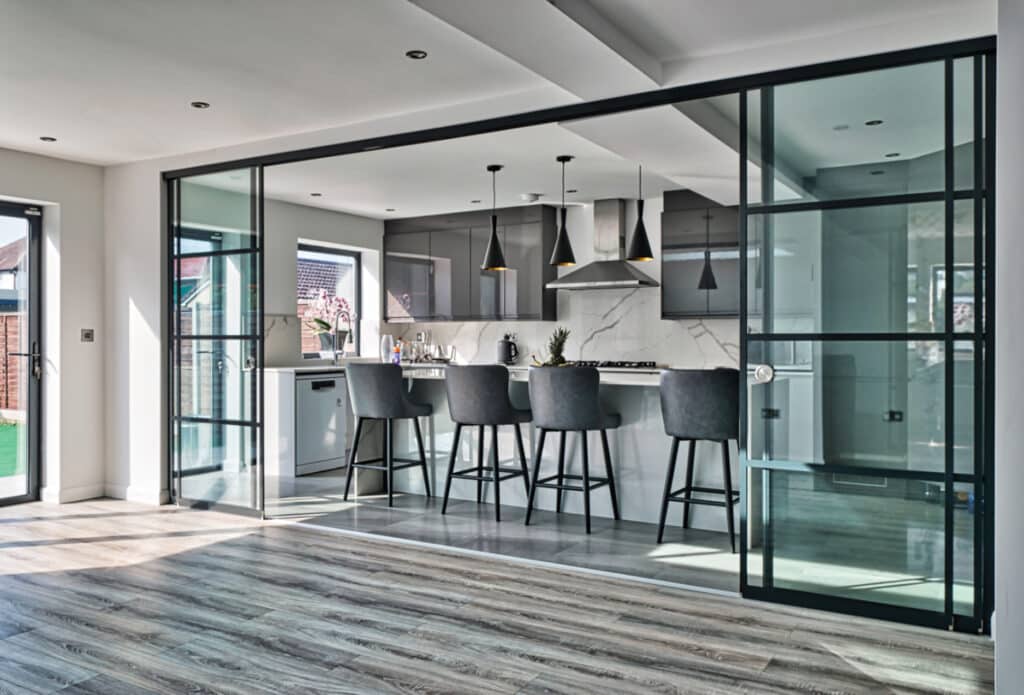 The move from separate dining, living and kitchen spaces to open plan, multifunctional home designs, such as a social kitchen space, remain popular. However, open-plan rooms can create additional challenges as more people work from home or growing families seek a designated area for the kids to play.
Those who wish to divide their internal living spaces – for privacy, sound reduction, energy-saving or security, for example – but also maintain their open plan living, can opt for our range of high-quality internal glass partitions to get the best of both worlds. These can be utilised as a part of an extension, renovation or new build.
Space-saving abilities
For older style properties, the use of sliding glass doors can be a versatile and aesthetic solution for creating bright living  spaces. With large glass panels and slim aluminium frames, sliding doors enable light to flood through your home or open up various rooms when required – a subtle divide providing both privacy and openness.
An alternative contemporary solution can be pocket sliding doors. Situated on an extended track into a pocket on the internal side of a wall, users can benefit from the versatility of the design – connecting two rooms to create a larger space and allowing cosy intimate spaces when required.
Bringing the outdoors into your home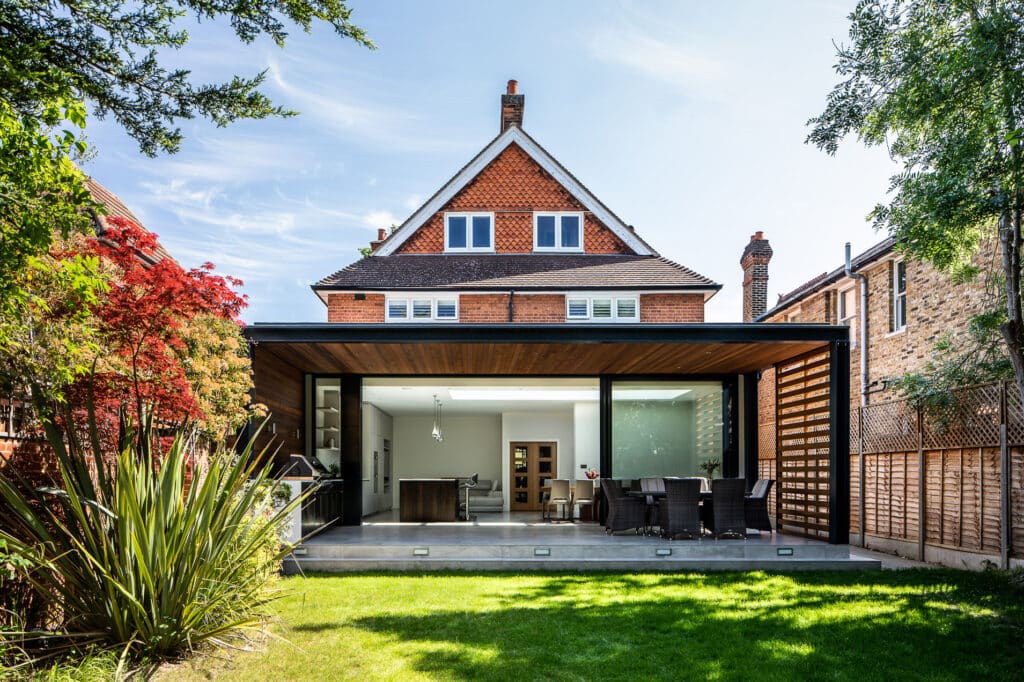 As rooms become increasingly multi-functional, kitchens or living rooms that open onto a garden or outdoor seating area via traditional patio doors or modern bifold doors retain a timeless appeal for both extension and renovation projects.
With many styles and designs, including timber-clad aluminium frames, our award-winning bifold door systems are some of the most thermally efficient on the market – advanced protection from the elements and low U-values from just 0.8W/m²K. Additionally, the panel catch technology, which is exclusive to SUNFLEX UK, can also secure bifold doors when they are open, providing further safety measures, such as preventing doors from unexpectedly shutting due to a gust of wind.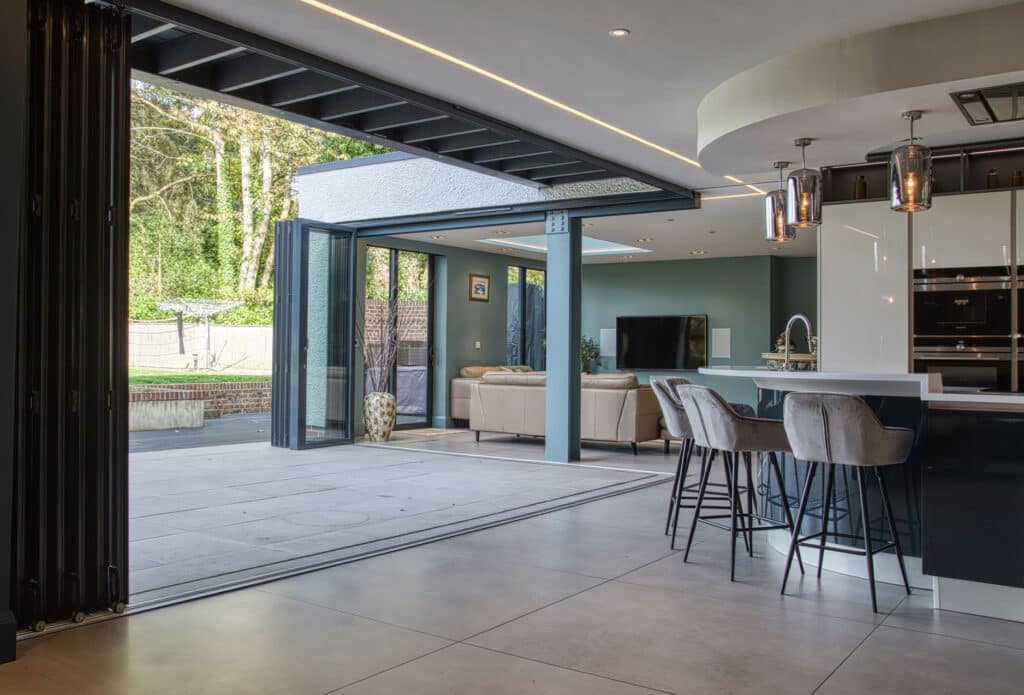 For those wanting a touch of luxury, our corner opening bifold doors with moveable post technology can deliver a 100% unobstructed corner, providing ultimate panoramic views.
Letting in light from above
With preferences toward accessibility, minimalism and sophistication growing, frameless glass roof lanterns and lean-to glass roofs have become a great option for letting light into your home, particularly when combined with technical advances such as self-cleaning glass technologies and the use of solar control glass coatings to protect against UV rays. Delivering a low-maintenance, high-quality design that can provide long-term value, other popular designs include the use of a pitched ceiling to add height or the use of flat rooflights to provide ample lighting to your home, which provides an overall subtle finish.
For those who wish to make more use of outside spaces, an addition such as a patio terrace roof can also break down barriers between internal and external living spaces and enable you to enjoy your outside space come rain or shine. With a range of roof types on offer, and with more than 200 colours, including the option of dual-colouring the frame to match the internal and external finishes of your home, our patio roof collection is a perfect modern addition.
Ultimate performance 
 As consumers increasingly move towards styles and designs that have a simple aesthetic appeal, they are also turning towards advances that provide increased efficiency and supreme performance, as well as a finished product that can be personalised and offer long-term value.
With privacy and security remaining a significant priority for most, we provide advanced protection, with a multipoint lock system on all of our front doors – ensuring that they remain resistant to snapping, lockpicking or drilling attempts. Alternatively, for a more hi-tech solution, we also offer an electronic lock that is controlled by a key fob or even a fingerprint reader, perfect for those regularly on the go.
For those who are environmentally conscious, switching from hardwood, uPVC or plastic windows to aluminium windows that can be recycle offers a multitude of additional benefits now and in the future. With increased thermal performance and the ability to blend with both old and new build properties, our slender framed windows and doors can incorporate slimmer profiles with larger glass panels, maximising the light in your home.
If you're considering a home renovation or extension, we have plenty of solutions for you to consider. Check out how SUNFLEX UK's innovative windows and doors have been utilised by customers in projects across the country.
Back to Help & Advice