As they provide the link between your home and garden, your choice of patio door is more important than you might think. While they won't be seen by people driving down the street, your choice of doors will have a significant impact on the look and feel of your home, the amount of light they let in and the connection between inside and out.
Bifold doors have become increasingly popular amongst homeowners, proving to be a stylish and contemporary patio doors alternative. In this article, the team at SUNFLEX UK are going to talk you through the benefits of bifold doors.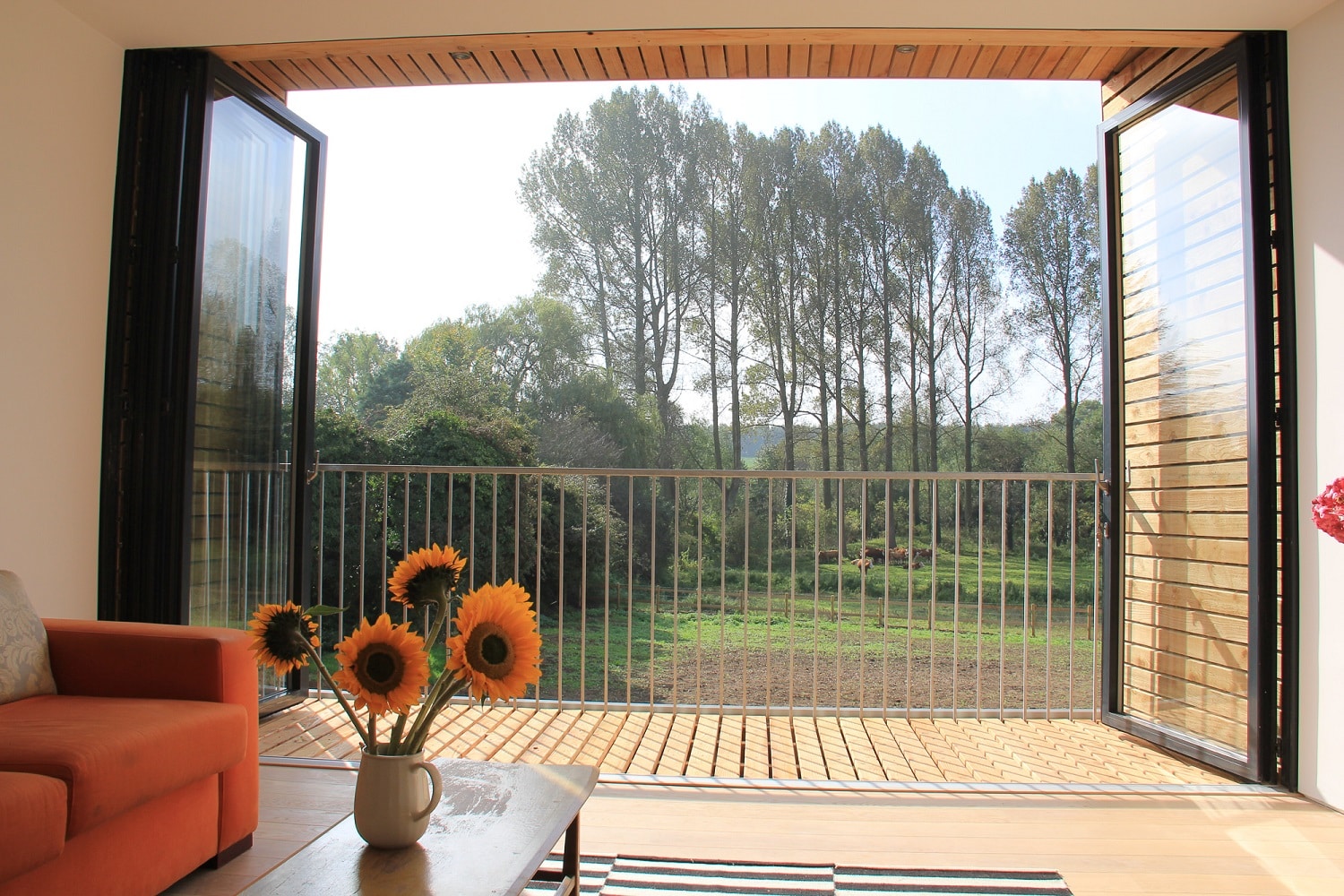 What are bifold doors?
Bifold doors (or bifolding, folding or even concertina doors) are named for the way they open and close. Bifold doors are made from multiple connected panels so that when the doors are opened, the panels stack to the side, out of the way, creating a completely unobstructed aperture. When the doors need to be closed, the panels slide back out on a single track across the opening.
The number of panels will vary depending on the size of the property and opening. For smaller openings, doors can be manufactured from just two panels, whereas bifold doors for larger openings can be fitted with up to 24 panels if required.
What are bifold doors made from?
Bifold doors are typically manufactured from aluminium, timber or uPVC. uPVC offers an entry-level option from a cost perspective but without the innate strength of aluminium or timber. uPVC also requires much larger frames and can be prone to flexing and expanding.
Timber offers a more traditional appearance but is heavier and requires more regular maintenance and upkeep than aluminium, and it tends to mostly get used on period properties or where the material is required as a stipulation of planning permissions.
By combining a lightweight and rigid design, aluminium bifold doors have quickly become the default option for the vast majority of homeowners in the UK. Its intrinsic strength allows for narrower frames, maximizing the amount of glass and creating a fantastic feature.
The combination of larger glass panes and slender aluminium frames creates a sleek, modern feel which works in any home, whether it's part of a wider contemporary aesthetic or used as a stand-out feature in an otherwise traditional structure.
For those seeking to match internal timber framing or finishes, the internal face of the doors can be clad with timber. Timber clad aluminium bifold doors combine the beauty of real wood on the inside with maintenance-free aluminium on the outer face of the door.
How much do bifold doors cost?
The cost of your bifold doors will depend on a number of factors including the material, the size of the opening and your choice of configuration.
The adage that 'you get what you pay for' has never been more appropriate than with bifold doors. SUNFLEX bifold doors are manufactured according to German designs and the highest standards of quality and performance, all backed by more than 20 years of folding door experience.
Why are bifold doors popular?
Breaking down the boundaries between inside and out
The overriding appeal of bifold doors is the ability to slide the doors back to create a completely unobstructed opening that seamlessly connects inside and out. This functionality allows homeowners to extend their living space out onto the patio and into the garden, creating the ideal entertaining space and adding a real 'wow' factor to any home.
Protection from wind and rain
With patented gasket technology, SUNFLEX UK bifold doors offer the most advanced weather performance protection of any bifold door on the market, making them ideal for even the most rural or exposed coastal locations. The advanced design ensures the doors create an effective seal between each individual panel and between the panels and the frame of the system, keeping out draughts and rain.
Versatility
Depending on the size of the opening, bifold doors can be manufactured in a range of configurations to perfectly suit your requirements. For systems with an odd number of panels it is even possible to use the lead door for everyday access to the garden without need to open up the entire system.
Low maintenance
Aside from cleaning the glass every so often and ensuring that the door track remains free of dirt, debris and any other obstructions, aluminium bifold doors require very little in the way of upkeep.
Energy efficiency
Bifold doors from SUNFLEX UK can be manufactured with double or triple-glazed sealed glass units, maximising thermal efficiency and heat retention. Modern aluminium doors are designed from separate exterior and interior aluminium frames with a thermal break between them to prevent cold-bridging and condensation.
In SUNFLEX UK bifold doors, the thermal break is a patented design that helps ensure that the inside surface of the door remains at room temperature, even when the outer surface is freezing cold on a winter's day.
Innovative features
SUNFLEX UK bifold doors are designed with innovative features not found on any other manufacturer's folding doors, including exclusive panel-catch and stacking clip technology. When the lead door is opened, the panel catch locks it to the second panel, whilst the stacking clip holds the doors in place, preventing the panels from accidentally shutting or being blown closed by strong winds.
Security
Each SUNFLEX UK bifold door features an advanced multi-point locking system that combines a mushroom lock on the lead door with shoot-bolts at the top and bottom of the system on both the lead-door and intermediate frames. The doors carry the prestigious Secured by Design™ award, achieving the police-preferred specification for security whilst also exceeding the requirements of PAS 24:2016 testing to meet the security requirements of Building Regulations.
Custom design solutions
If you have a contemporary property that incorporates curves into its structure, then you would be forgiven for thinking that bifold doors are out of the question. You'd be wrong, though – curved (or faceted) bifold doors are available in concave (curving inwards) or convex (curving outwards) varieties, using the same smooth opening mechanism and providing the same benefits as traditional bifold doors.
Maybe you'd like bifold doors installed that open up a complete corner of an extension or renovation project? That's no problem, either. SUNFLEX UK's brilliant moveable post technology means that bifold doors can be installed so that they open up to create a completely panoramic view into your garden. The shape of your property needn't prevent you from enjoying the best bifold doors on the market.
Whether you are considering an extension to create an open-plan kitchen, undertaking a complete renovation or planning a complete new-build home, there's a glazing solution for your project. With bifold doors from a two-panel door in a small study to a large door opening out from a living room into the garden, SUNFLEX UK can manufacture bespoke bifold doors that take your home to the next level.
For more information about our bifold doors, or for any of our other glazing systems that we provide, please search for your closest distributor and they'll be more than happy to offer advice and support for your project.
Back to Help & Advice