Over the past 15 years bifold doors have soared in popularity thanks to the lifestyle trend for open-plan living spaces and creating a connection between home and garden. SUNFLEX has been designing and manufacturing folding door solutions in Germany for more than 35 years and as a result we are expertly placed to offer advice and ideas on what to look for in a bifold door system.
Home design inspiration
Modern building design has allowed for larger apertures to be constructed, meaning that bifold doors, which break down the barriers that ordinarily define your inside and outside spaces, became a stylish alternative to French doors or patio doors. With their ability to completely open up they have completely transformed the overall look and feel of homes, whether via extension projects or renovations.
Ready to make some design decisions about your home or project? In this article, we outline some of the main types of bifold door and why they are so popular, so you can be confident in your choices.
Get the 'wow factor'
Bifold doors are highly versatile and can be tailored to suit both traditional and contemporary properties. Whilst uPVC is an option, its flexibility and lack of rigidity means wider and deeper frames which reduce the size of the glass units available. Timber doors can be utilised for period properties, but long term maintenance and the weight of the frames and the risk of the panels warping or expanding in the heat as led to aluminium becoming the default choice for most projects.
If you're hoping to create a 'wow factor' with, then a floating corner-bifold door systems or curved bifold door might be right for you:

Floating corner bifold door
Used for contemporary homes or large extensions, a floating corner bifold door provides the opportunity to open a space where two walls join. While fixed corner bifold doors include a fixed supporting pillar where the panels meet, a floating corner bifold door has a post that moves with the main door. This allows for a completely open, and interrupted panoramic view of your outside space.
Curved bifold doors
Suitable for homes with flowing curves, a curved bifold system folds panels away to one or both sides of your wall opening to provide a seamless transition between inside and out. They are a stunning alternative to fixed frame windows and can be manufactured in either convex or concave designs.
What are the advantages of bifold doors?
Complete openings
With French doors limited in size and sliding doors limited by the requirement to (mostly) incorporate a fixed panel, bifold doors are perfectly suited for completely opening up an aperture. When the panels you can create a seamless transition between inside and out to extend your living space out on to the patio and into the garden.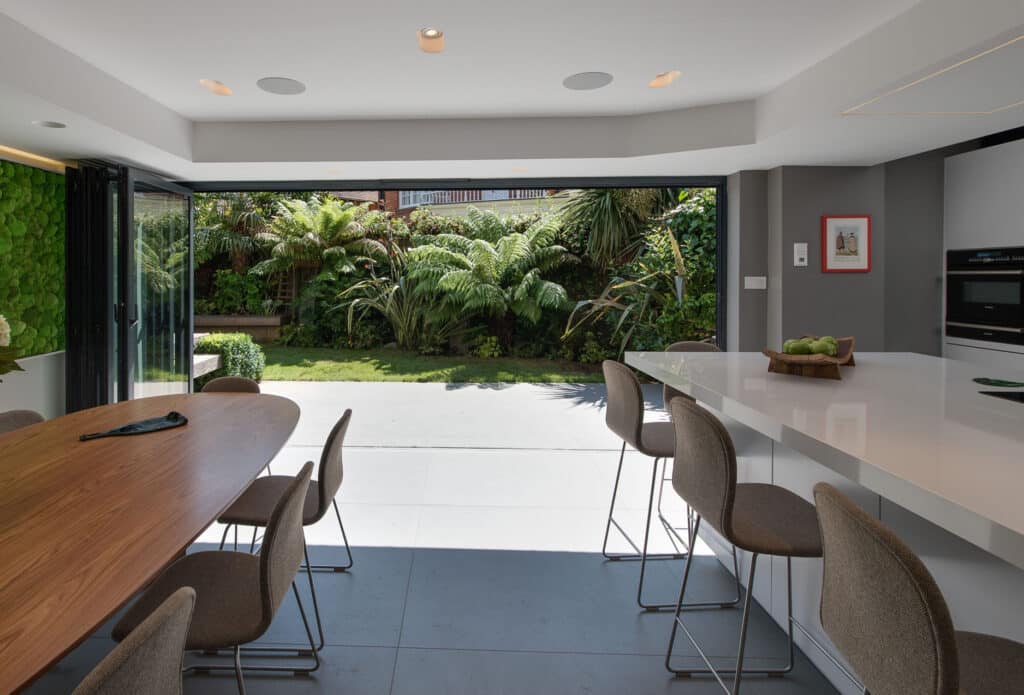 Practical
Bifold doors can be configured to open inwards or outwards, slide left or right and can configured openings as small as 1.3m, all the way up to 22m. Deploying an odd number of panels allows you the option of a single doorway within the main door, meaning you don't need to open the full width of the door in colder months
Ease of use
Not only are aluminium bifold doors aesthetically pleasing, they require minimal upkeep or maintenance, making them a worthwhile investment for years to come.
SUNFLEX bifold doors are available as bottom running systems, meaning the weight of the doors is carried by the running gear at the base or the system, rather than hanging from a steel or lintel above – making it easier for the structural calculation and project design.
Safety and security
All SUNFLEX bifold doors feature toughened glass and an exclusive panel catch technology that secures the lead door in place, providing an additional element of safety. When the doors are open, the panel catch locks the lead door against the second panel, preventing it from being closed accidentally, for example by small children or from blowing shut in the wind.
SUNFLEX bifold doors also carry the prestigious Secured by Design™ award, with the systems designed to the police preferred security specification.
Weather protection and thermal efficiency
Bifold doors are ideal for whatever the British weather can throw at you – whether you want to bring the outside in by opening them fully to make the most of the summer sun or keep the outside out to protect from the wind, rain and cold during wintry conditions. Providing impressive thermal efficiency with U-ratings from just 0.8W/m²K, SUNFLEX aluminium and timber-clad bifold doors can even be incorporated into Passivhaus standard eco-builds.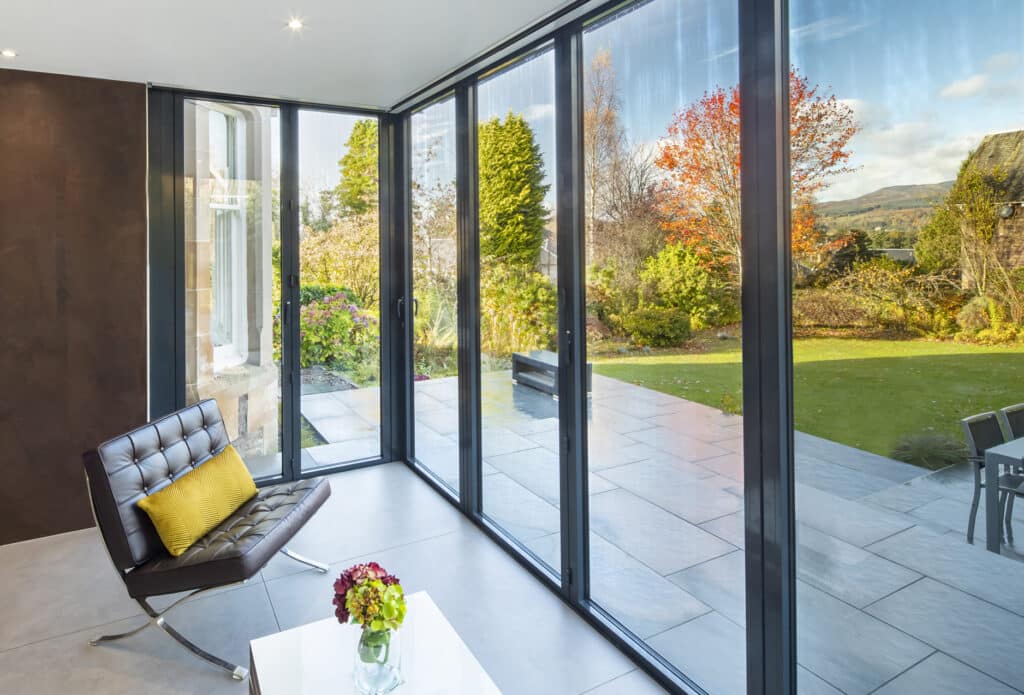 Why choose SUNFLEX bifold doors?
Our bifold doors have been tried and tested for more than three decades, offering complete peace of mind in terms of quality and design. Our premium quality systems and custom-designed to your exact specification and our experienced distributors across the UK can offer advice and assistance on a full glazing package for your home – whether you are planning a city-centre extension or tackling a stunning Grand Designs style self-build home.
For more information and to get a quote for your project use our postcode finder to find your nearest distributor and showroom.
Back to Help & Advice