From giving your home more space, to improving its look, sliding doors can bring a whole host of benefits. Here at SUNFLEX, we've outlined all the ways they can enhance your home.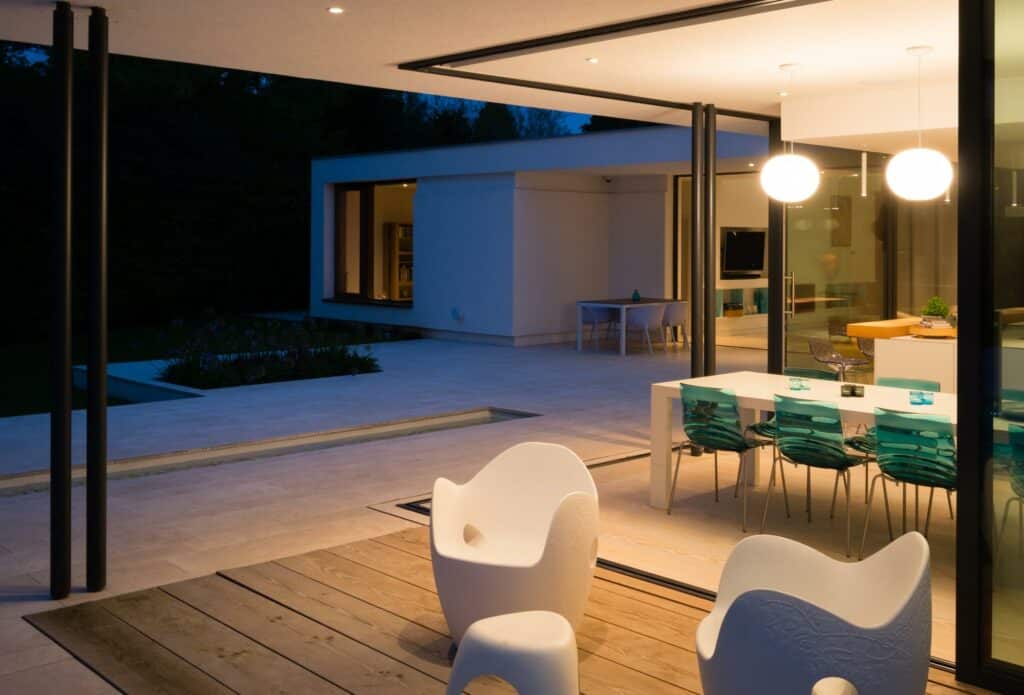 Sliding Doors can Create Floating Corners 
Currently one of the most popular architectural trends in the industry, floating corners add an element of mystique to your space. 
Floating corners utilise sliding doors, adding them to rooms to give the impression that the ceiling corner is floating effortlessly. Floating corners use steel structures, or posts, to support the ceiling opening up the room in a unique and innovative way. 
If you want to give the impression that your room has more space, then corner sliding doors are a great way to achieve this. You can choose between sliding or bi-folding doors with both options ideal for leading out to a garden or outdoor space. 
Corner sliding doors are a particularly good choice if you're looking to bring together your indoor and outdoor space, and are a great way to encourage alfresco dining as well as bring additional light into your home. 
If you're concerned about insulation, then you can implement corner sliding doors that address this too. Aluminium sliding doors are extremely energy-efficient due to the metal being less susceptible to draughts and cold spots. 
Aluminium sliding doors are also made from remarkably resilient and robust materials – meaning they can keep your home secure. 
Corner Sliding Doors can Save you Space
As well as giving your home the potential to create new spaces, sliding doors can also help you maximise what's already there.
Normal doors can actually take up a substantial amount of room- especially when they're open. Sliding doors sit directly alongside a wall meaning that whether they're open or closed, they take up the same amount of room allowing you to make the most of your space. 
They also act as a great way of bringing different rooms together. For example, having sliding doors between your dining room and lounge is a wonderful way of stitching together different elements in your home. 
It isn't just domestic properties where sliding doors can make an impact. If you're looking to save space and open up floorplans in your business or office space, then they're a great option for the commercial sector too. 
Corner Sliding Doors can enhance your Home's Aesthetics
Practicality is not the only benefit of sliding doors. They can also strengthen the aesthetics of your home. 
In recent years sliding doors have become an increasing trend for interior designers as they can add a fresh and modern style to every room they occupy. Simple yet sleek, they can align with all architectural designs and styles with products coming in a variety of materials. 
Whatever room they're installed in, they make for a subtle yet tasteful addition to all spaces. 
If you're considering implementing sliding or bi-fold doors, then SUNFLEX has a wide range of products you can choose from. Our team is an award-winning supplier of all types of sliding door with our distributors operating across the UK. Contact us today to find your nearest distributor. 
Back to Help & Advice