If you're looking for a new feature door or large expanses of glazing for your property, then sliding doors could be exactly what you need. Far from just a means of entry and exit, sliding doors bring a range of benefits to homes and homeowners. When it comes to such a significant addition to your property, though, you need to know all the facts before you buy, which is why SUNFLEX UK has created this detailed guide to sliding doors.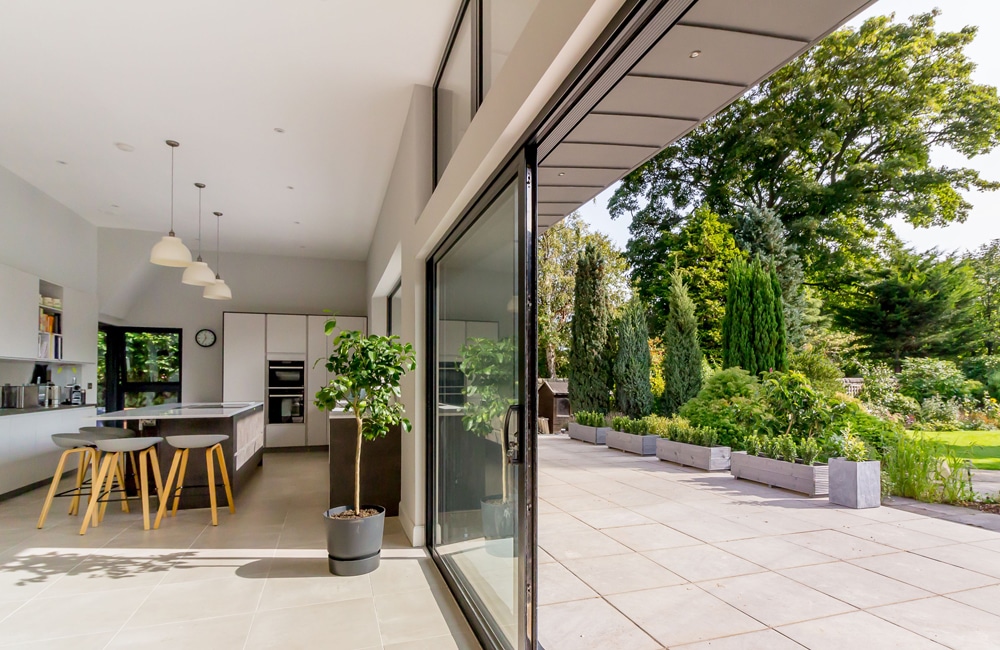 What are the benefits of sliding doors?
Sliding doors are immensely popular around the world, and with good reason. They bring a range of practical and aesthetic benefits to a home and homeowner, so let's take a look at what they are.
Aesthetics
Sleek frames
Modern sliding doors look absolutely fantastic in any home, whether contemporary or traditional. Modern designs boast sleek frames, which maximises the amount of glass in the door itself – this serves to enhance not only the appearance of the door itself, but it also makes a room feel bigger, brighter and more open.
A variety of colours
There's a huge range of colours available for your sliding doors, too. No matter the decor of your property or your personal tastes, you'll be able to find sliding doors to suit and we can even make the doors with different colours on the inside and outside to match the finishes and décor of your home.
Security
Every SUNFLEX UK sliding door is manufactured with an advanced five-point locking mechanism to provide advanced security. The doors carry the prestigious Secured by Design™ award, demonstrating that they exceed the police preferred security specification as well as exceeding the requirements of PAS 24:2016 testing to comply with Building Regulations.
Easy operation
Even the largest sliding doors are easy to open now, thanks to innovative engineering. The running mechanisms and tracks mean that doors can be slid open with the lightest of pushes, making them easy to use by anyone. The advances in technology and design mean that the days of sliding doors being heavy and awkward to operate are long gone.
Creating a light-filled home
The large panes of glass on sliding doors mean that natural light flows into your home in abundance. So whether you are dreaming of creating a large-open plan kitchen or merely seeking to increase the light that reaches existing rooms, then sliding doors are the perfect option for your project. The minimal frames and large panes of glass can also make the most of your view out, providing an almost uninterrupted wall of glass and breaking down the boundaries between inside and out. 
Energy efficiency
Getting the glazing specification for any doors or windows is crucial. All SUNFLEX UK sliding doors are available with double glazing and can achieve incredibly low U-values from jusy 1.2W/m²K for advanced thermal performance – helping to keep your home warmer in winter and reducing your energy bills. The doors can also be fitted with a range of solar control glass options that reduce the amount of heat from the sun, helping to keep your rooms cooler in summer too.
What material is best for sliding doors?
Sliding doors are available in a range of materials, but SUNFLEX UK's sliding doors are all manufactured from thermally broken aluminium frames.The doors are unrivalled across all aspects of design, build and functionality. The frames are incredibly durable, able to withstand constant usage and the impact of the elements. Our aluminium doors have been fully tested in severe weather conditions to ensure they can withstand the stress of inclement weather.With aluminium frames, SUNFLEX UK sliding doors can be opened with minimal effort, no matter the size of the opening.
How wide can my sliding doors be?
Sliding doors from SUNFLEX UK are available with panels from 800mm up to 3m wide and for openings ranging from 2.4m to 24m in overall width. Whether yours is at the narrower or wider end of the scale, these aluminium sliding doors look great and work beautifully, sliding open so that you can step out onto your patio, or sliding shut so you can keep the heat in on a wintery day. The doors themselves are available with a choice of sightlines, allowing you to match the style of door to the look of project and budget.
Can sliding doors be installed on a corner?
Corner sliding doors can make for a stunning focal point of any home, providing incredible contemporary design and a real wow-factor. Utilising our 'floating corner' design, corner sliding doors from SUNFLEX UK can completely retract to open up an entire corner of your property and provide incredible panoramic views. For contemporary homes, particularly ones with cantilevered roofs, the visual effect is absolutely stunning.
SUNFLEX UK is proud to be an industry-leading manufacturers of aluminium sliding doors. We're able to install bespoke sliding doors that are tailored to the needs of your property, whether you need corner sliding doors for an architect designed home, a two-panel installation to replace existing doors or a huge 24m multi-panel design as part of a complete renovation. With customisable handles and colour-matching services, you can be sure we can design the perfect sliding doors for you.
To find out more about our aluminium sliding doors, get in touch with us today or simply find your local SUNFLEX UK distributor.
Back to Help & Advice