A glass extension is an excellent way to add extra space and offer that 'wow' factor to your home. Flooding properties with natural light, a bespoke glass extension can increase the overall value of your home and may be particularly beneficial for those in north-facing properties.
Although glass extensions have been available for many years, some property owners have shied away from them due to concerns around draughts and heat loss. However, technological advances mean glass extensions are now exceptionally thermally efficient. Not only can you enjoy a glass extension during the summer months, when a welcome breeze can flow through open doors, they are also a great asset for hosting indoor parties and gatherings during winter.
Glass is just one option when extending your property. With so much choice and variety on the market, it can be hard to know what the right choice is for your needs. Our article aims to help by explaining the advantages of choosing a glass extension over a traditional build.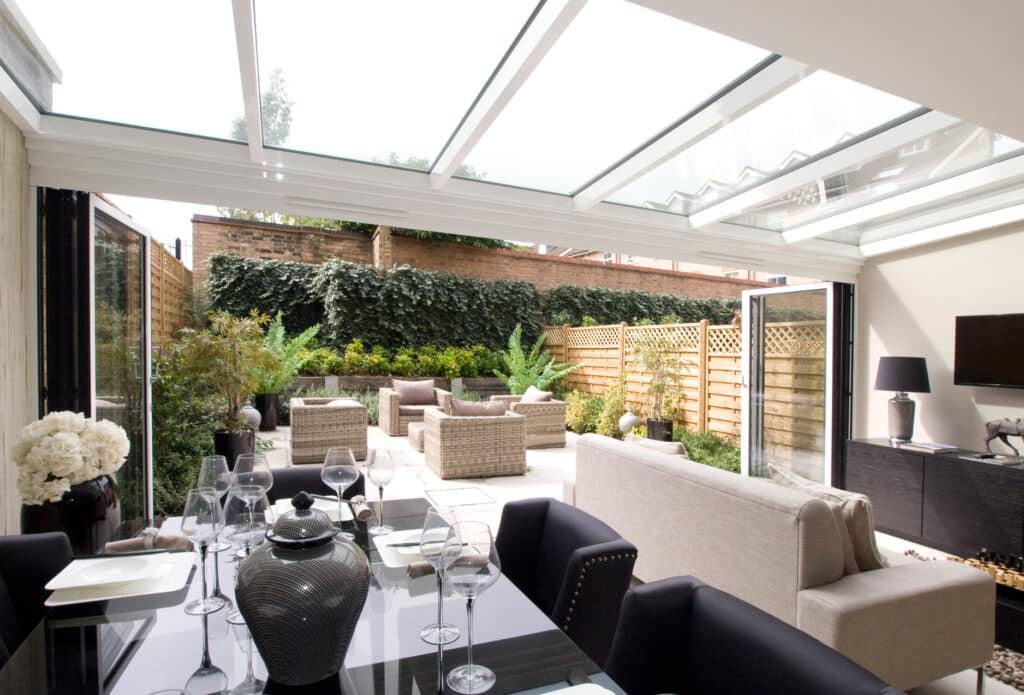 Advantages of a glass extension
Unlike brick-and-mortar structures, glass extensions are not only a statement architectural marvel, but they can also create a contemporary touch to a more traditional property. They are also ideal for smaller spaces and can help maximise the value potential of your home.
With an array of colours, structures, and designs available, a glass extension can be tailored to match your needs. Here are some more advantages of a glass extension:
Additional space
There have been times where we all have wanted a bit of extra space in our home – whether for entertaining family or friends, for children to play or for some much-needed relaxation, a glass extension not only extends your square footage, but it can also give the appearance of a larger space by letting light flood your room from all angles.
Blending indoors and outdoors
Breaking down the barriers between inside your home and your courtyard or garden, a glass extension creates a beautiful hybrid space that suits all seasons. You can complement your glass extension with traditional French doors or for an added design feature you can include bifold doors or sliding doors.
Increased house value
Providing additional space and panoramic views, a glass extension can add 5-7% to your current house value. When it comes time to sell your house, you can be sure that a glass extension will provide the 'wow factor' potential buyers are looking for.
Alternative to uPVC conservatories
Changes to Building Regulations and the introduction of the new Document O (covering the mitigation of overheating) have meant large uPVC conservatories with polycarbonate panels could be a thing of the past. With a thermally broken aluminium frame and solar control glazing, aluminium framed glass extensions are capable to creating space that is useable all year around – keeping the heat in during winter whilst ensuring the room is usable even in the height of summer.
Do I need planning permission for an extension?
Before embarking on any extension work, it's essential check whether planning permission will be required. You may not need planning permission if your build falls under Permitted Development Rights (PDR), which include the following stipulations:
Your extension can extend up to three metres if it is a semi-detached property or four metres if it is detached. The height should also be no higher than the existing build.
A conservatory can be built without planning permission if it does not exceed more than three metres (semi-detached) or four metres (detached property) from the rear wall of the existing dwelling.
Eaves (the lower part of the roof) and overall ridge height of your development must not exceed the height of the current property.
The extension must be a single storey and must not extend beyond the rear wall of the existing dwelling by over three metres.
The development must blend in with your existing architecture, including the roof pitch of your extension.
All windows (if a double storey extension) should incorporate obscure glazing if they are placed 1.7m from the floor to ensure neighbours retain the same level of privacy.
However, as planning laws are continually changing, you will need to contact your local authority for further information.
How much does a planning application cost?
The cost of a planning application for all extension or alteration works is £206 in England. Costs in Wales, Scotland and Northern Ireland differ and can be sought from your local planning authority.
For those in England, other application costs are as follows:
Extensions to two or more dwellings: £407
Residential new-build property (from 1 to 50 homes): £462 per dwelling
Residential new-build property (over 50 homes): £22,859 plus £138 for every dwelling.
Planning documents can be viewed on the Planning Portal, with an additional £20 processing charge attached.
Do Building Regulation Application costs apply?
Separate from the costs of planning permission, Building Regulation applications can cost up to £300 (dependent on the amount of work required) and inspections can cost up to an additional £700.
These costs are separate from planning permission fees, which are essential for projects that do not fall under the scope of PDR.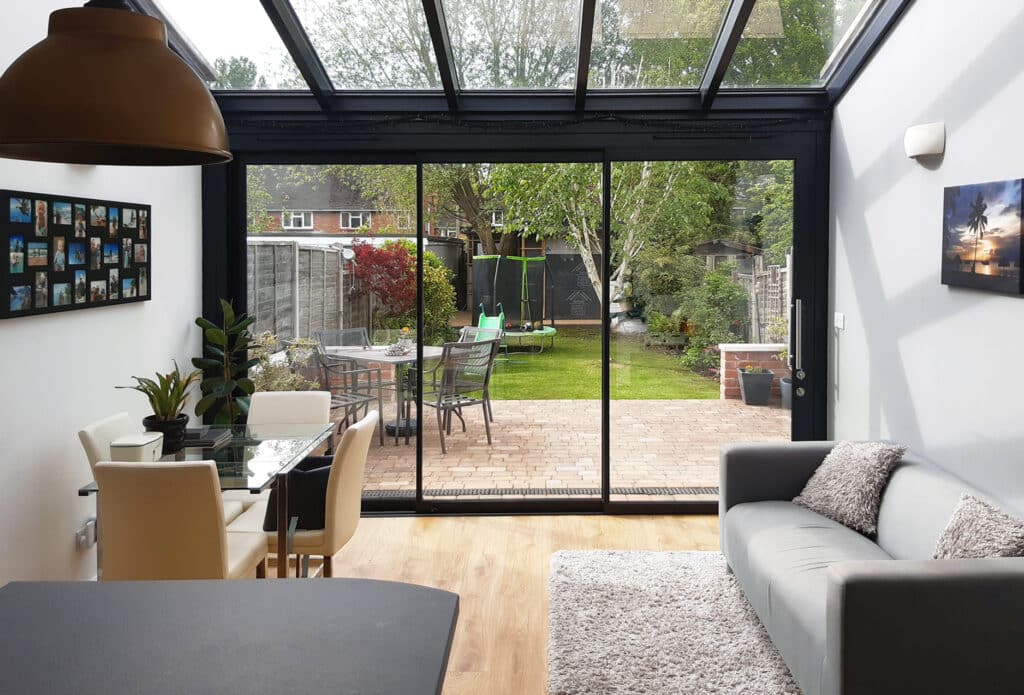 Are glass extensions expensive?
When budgeting for your glass extension, it will be important to keep in mind that costs can start from up to £14,000 for a smaller project but can range to £80,000 and beyond for larger designs. Glazing can also add an additional £3,000 per m², with overall costs factoring in the following elements:
The cost of glass over conventional brick
Size of your development
Architectural, engineering and planning costs to help bring your design to fruition, use of materials and overall structure.
Ongoing labour costs, including the use of a crane to transport heavy glass panels, which could create additional expense
Glazing: whether you opt for single, double or triple glazing
The type of design: framed/frameless, size and type of doors and roof system
Where your property is situated e.g. building costs will be more expensive in London than in Northern counties.
Why choose a SUNFLEX glass extension
If you're considering a glass extension, whether small, large, modern or even a lean-to  design, SUNFLEX has a wide range of products you can choose from. Whether you are looking for an aluminium alternative to a uPVC conservatory featuring one of our lean-to glass roofs with fixed frame windows and/or aluminium bifold or sliding doors underneath; or want to use one of our patio terrace roofs with a frameless sliding or slide and turn door underneath to enclose a patio, our distributors operating across the UK can assist. Use our postcode finder to find your nearest distributor and showroom.
Back to Help & Advice