SUNFLEX UK bifold doors and sliding doors in Kent and East Sussex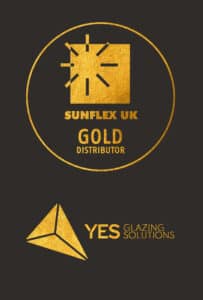 With a proud reputation for supplying and installing high-quality glazing systems across South East London, Kent and East Sussex, YES Glazing are experts when it comes to fitting SUNFLEX UK bifold doors and sliding doors.
Through a combination of highly skilled staff, a wealth of experience and a commitment to quality and efficiency, YES Glazing have established themselves as a trusted glazier for projects of all scales.
The name YES stands for Yielding Excellent Service – a promise to customers to be on time and in spec every time. Twenty years of trading means YES have the experience to deliver on our promises.
Their stylish showroom close to the M25 in Westerham is full of inspiring glazing systems, whilst their expert project advisors are on hand to offer their support and recommendations for your project.
For more information about fitting SUNFLEX UK doors in Redhill, Maidstone, Royal Tunbridge Wells and across Kent and East Sussex contact YES Glazing today to discuss your project.
Get in touch with YES Glazing
* The referral to a recognised SUNFLEX distributer is only by way of introduction and, whilst we do hope that you choose to use their services, you are under no obligation to do so. Our distributers are experienced in fitting SUNFLEX door systems but they are an independent third party that operates completely seperately from SUNFLEX UK and the terms and conditions of sale will be directly between you and this company. This company will provide you the guarantee and be responsible for any servicing work required. SUNFLEX UK therefore cannot be liable for any losses, costs, charges or expenses caused by any aspect of the contract.