SUNFLEX UK bifold doors and sliding doors in Gloucestershire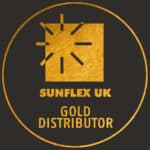 Celebrating their 40th birthday, L&L Installations specialise in high quality glazing systems and supply and install SUNFLEX UK range of bifold doors and sliding doors across Gloucestershire, Worcestershire and the surrounding area from their base in Tewkesbury.
A long-standing local company benefiting from a wealth of in-house experience & healthy ethical values, L&L Installations are recognised locally for the service they offer.
Whether you are planning an extension, renovation or new-build home the L&L Installations expert staff are able to offer advice and support on the most suitable products for your home and with their own teams of fully trained and employed fitters you are assured of the highest quality installation.
For more information about selecting SUNFLEX UK products in your area look no further than L&L Installations. Contact them today to find out more.
Get in touch with L&L Installations
* The referral to a recognised SUNFLEX UK distributor is only by way of introduction and, whilst we do hope that you choose to use their services, you are under no obligation to do so.
Our distributors are experienced in fitting SUNFLEX UK door systems but they are an independent third party that operates completely separately from SUNFLEX UK and the terms and conditions of sale will be directly between you and this company. Your chosen distributor will provide you the guarantee and be responsible for any servicing work required. SUNFLEX UK therefore cannot be liable for any losses, costs, charges or expenses caused by any aspect of the contract.
Whichever company you decide to purchase from, SUNFLEX UK recommends that, for peace of mind, you choose deposit protection insurance and an insurance backed guarantee. By choosing these options you are protected, even if the worse happens. Your deposit would be secured and your guarantee still honoured. Please ask your SUNFLEX UK distributor about this.